NFIB: Worker Shortage Still a Top Issue for Small Businesses
The National Federation of Independent Business (NFIB) recently released findings from its monthly job report indicating that staffing shortages continue to plague small businesses. Small business owners who reported labor quality as their top business operating problem was at 22 percent in September. Ten percent reported labor costs as the single most important problem.
NFIB Chief Economist Bill Dunkelberg commented, "The worker shortage remains challenging for many small business owners nationwide. Staffing shortages have limited small business owners' ability to fully take advantage of current sales opportunities and they continue to adjust business operations to compensate."
According to the report, 46 percent of all small business owners (seasonally adjusted) reported having job openings they were unable to fill. This number was down three points from the previous month.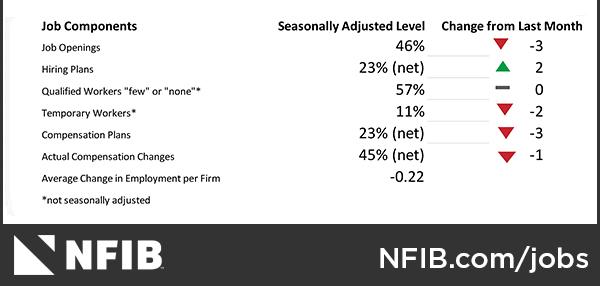 Forty-two percent of small business owners polled reported having job openings for skilled workers, and 22 percent reported openings for unskilled labor.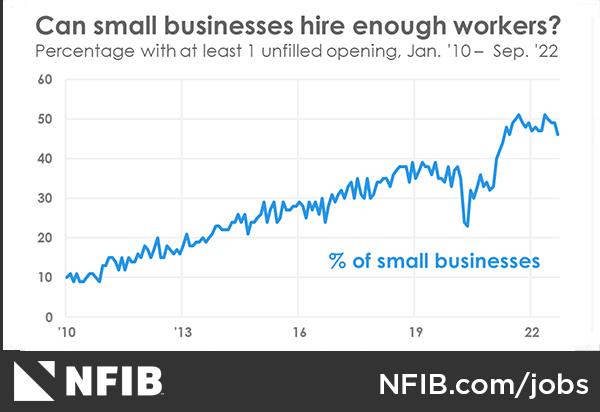 Twenty-three percent planned to create jobs through the rest of 2022, and 64 percent reported hiring or trying to hire (up from the previous report). Eighty-nine percent of those owners hiring or trying to hire indicated they had either few or no qualified applicants for their open positions. Twenty-seven percent reported few qualified applicants for their open positions and 30 percent reported no applicants.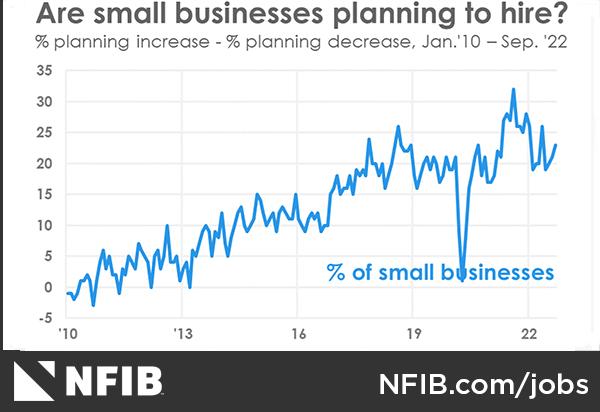 Forty-five percent of small business owners (seasonally adjusted) reported raising compensation, down slightly from the previous report and five points below the 48-year record high at the beginning of 2022. Twenty-three percent plan to raise compensation by the end of the year.
As NFIB notes, the labor situation continues to frustrate small business owners, and the staffing shortage has proven to be limiting their ability to take full advantage of sales opportunities. They are having to make due with smaller staffs to handle larger workloads than they should be handling.
"While there might be a few cracks in the labor market appearing overall, employment remains historically strong on Main Street," the NFIB's report said. "The first casualty of a weakening labor market will be job opening followed by slower hiring activity. When sales soften enough, actual layoffs occur and initial claims for unemployment benefits rise. We are at the front end of this process. Its speed will depend on how quickly consumer spending fades and government spending eases."
It will be interesting to see how things play out once we get into 2023. January and February are largely considered to be the two biggest hiring months of the year, and jobseekers are usually encouraged to apply for the jobs they want during this time. It remains to be seen if employers will be able to fill the skilled and unskilled jobs that have remained vacant.
Read other business articles
More from the Business Resource Center