US Chamber of Commerce Report Looks at Crime Risks to Business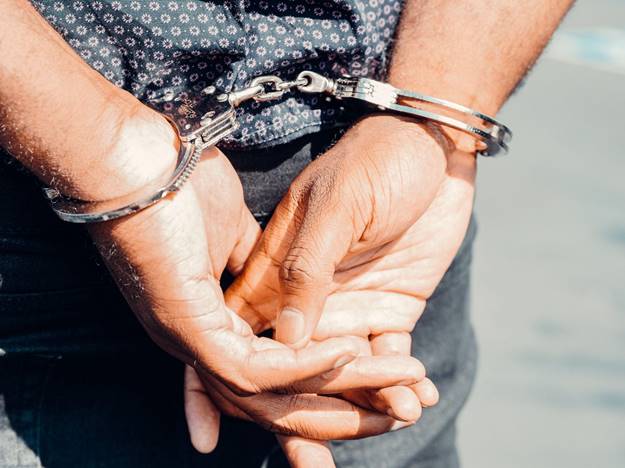 The U.S. Chamber of Commerce recently released a report about crime risks to businesses in the United States. The report looked at a surge in retail and related crime, which has been impacting businesses of all sizes. It also urged policy actions from local, state, and national lawmakers.
Included in the report are findings from a survey examining corporate documents, including 10-K filings, earnings calls, presentations, and other records of companies listed on the S&P 500. Mentions of organized retail crime from the beginning of the year throughout the end of August surpassed numbers recorded for 2022 by 43 percent. The Chamber says that if the trend persists throughout the rest of 2023, mentions of organized retail crime are on track to nearly double from 2022 to 2023.
"The scourge of organized retail crime has become increasingly pervasive, with retailer losses driven by retail crime totaling nearly $100 billion dollars last year," said Tom Wickham, the U.S. Chamber of Commerce Senior Vice President of State and Local Policy. "No store should have to close because of theft, but we are sadly seeing more stores – particularly smaller ones – shuttering their doors because of theft and other crime in their neighborhoods."
The report looks at efforts from lawmakers to combat such crime. It talks about the INFORM act, which was signed into law nearly a year ago, and took effect in June. This combats the online sale of stolen, counterfeit, and dangerous consumer products by ensuring transparency in online retail marketplaces. As explained in the report, it directs online retail marketplaces that include third-party sellers of consumer products to verify the identity of "high-volume third-party sellers," which can deter the online sale of goods by anonymous sellers and prevent criminals from stealing items to resell them online.
The report also looks at some efforts by states: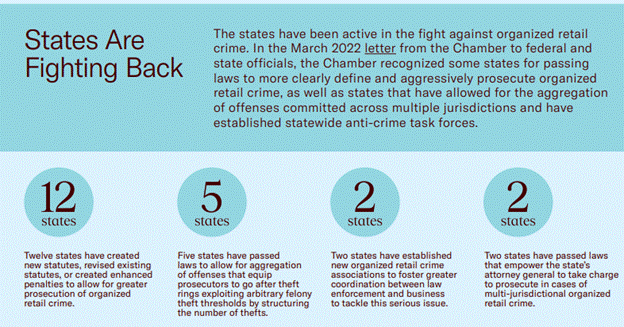 To add to existing efforts, the Chamber urges increased public-private cooperation and recommends that state officials and businesses coordinate resources to combat criminal gangs.
The Chamber adds that lawmakers should update their laws to allow prosecutors to aggregate multiple offenses across jurisdictions and that local prosecutors should aggressively prosecute crimes against businesses. If the prosecutors don't prosecute such crimes, the Chamber suggests that lawmakers should circumvent them or make it easy to remove them.
"As awareness around this issue grows, driven in part by Chamber efforts with the business community, civic organizations, and policymakers—we hope this new report will serve as a key resource as we all work together as affected stakeholders to combat this crime surge," said Wickham.
The report follows an earlier survey from the U.S. Chamber of Commerce that found that 56 percent of small businesses said they were targeted by retail theft, and that nearly half described the issue as getting worse.
In a letter to federal and state officials last year, the Chamber said that it declared organized retail crime to be a national crisis and called upon lawmakers to take actions to help businesses fight crime. It would appear that the problem has become even more serious since then.
https://www.uschamber.com/economy/crime-risk-to-business-2023
Read other business articles
More from the Business Resource Center