Alignable Survey Looks at Record-Breaking Rent Issues for Small Businesses
A recent survey from small business referral network Alignable found that August saw the highest rent delinquency rate among small businesses to date in 2022, at 40 percent in the U.S., up six percent over July's delinquency rate of 34 percent. The delinquency rate had not been this high since March 2021, which was in the middle of the pandemic.
The big factors contributing to rent delinquency, according to the survey, include: rent spikes, gas prices, increases in the cost of supply and labor, elevated interest rates, and reduced consumer spending, in addition to "other emerging recessionary trends."
Forty-five percent of those polled said their rent is at least 50 percent higher than it was before the pandemic, with 24 percent saying it's at least twice as high. Twelve percent said their rent is more than three times higher than before COVID.
"While several landlords were able to defer rent requests during the worst months of COVID, over the past few months, many have had to ask for rent payments," says Chuck Casto from Alignable. "In many cases, they're small business owners, too, and they've gone without much of their income for over two years. Many tell us they can't hold out any longer."
Fifty-three percent of minority small business owners polled reported not being able to pay their rent in full and on time. Forty-two percent of women-owned businesses said the same. Forty percent of veteran business owners reported this experience, with a major jump from 28 percent the previous month. Forty-one percent of non-minority business owners could not pay their rent in August.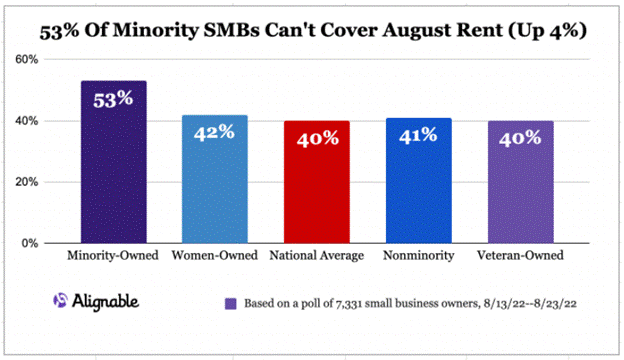 Image via Alignable
The rent issues are plaguing small businesses across industries, but those hit hardest have been farmers, nonprofits, and restaurants. Businesses in the automotive, education, and travel/lodging sectors are close behind, followed by gyms, transportation, construction, real estate, and retail businesses.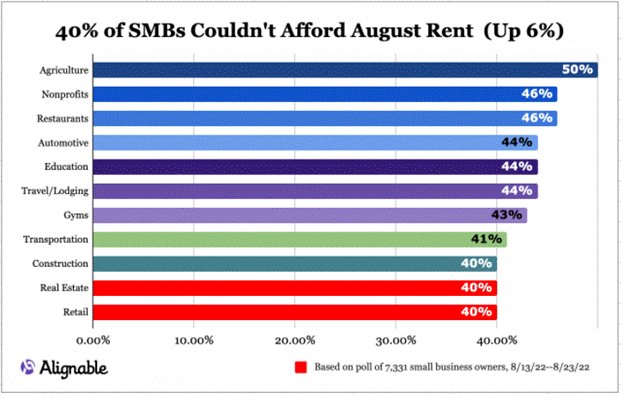 Image via Alignable
It is worth noting that some sectors saw their situations moving in a positive direction with transportation, retail, and beauty salon businesses experiencing a reduction in the percentage of rent delinquencies. Transportation and salons both dropped seven percent month to month, while retail businesses dropped by four percent.
Casto attributes much of the overall problem to what he calls a "domino effect" emerging in the real estate industry. He points to rising interest rates, slowed construction, and real estate firms having rent issues of their own.
Five states had rates of rent delinquency that were higher than that of the national average, which was 40 percent in August. These are: Colorado at 55 percent, Illinois at 53 percent, Georgia at 52 percent, California at 44 percent, and New York at 44 percent. Texas tied the national average. Just under the national average were Michigan and New Jersey at 39 percent each, Arizona at 37 percent, Florida at 35 percent, Massachusetts and Pennsylvania at 33 percent each, and Ohio at 32 percent.
The data in the Alignable report is based on a poll of 7,331 randomly selected small business owners.
Read other business articles
More from the Business Resource Center