Meta Introduces New Ads and Messaging Tools for Small Businesses
Meta, the company formerly known as Facebook, recently introduced new ads and messaging tools aimed at small businesses. The company said the tools can improve how small businesses connect with customers and can help to identify higher quality leads.
For starters, the Meta announced easier ways to create Facebook and Instagram ads that start a WhatsApp chat. This is in response to the statistic from a Kantar survey that 71 percent of people want to be able to communicate with businesses in the same way that they message with friends and family.
"Many businesses are finding Facebook and Instagram ads that open to a WhatsApp chat the best way to get discovered by new customers and have a conversation," the company said in a blog post. "To make it easier to create these ads, starting soon we'll make it possible to create the full ad directly from the WhatsApp Business app. This will make it faster for small businesses looking to find new customers and grow."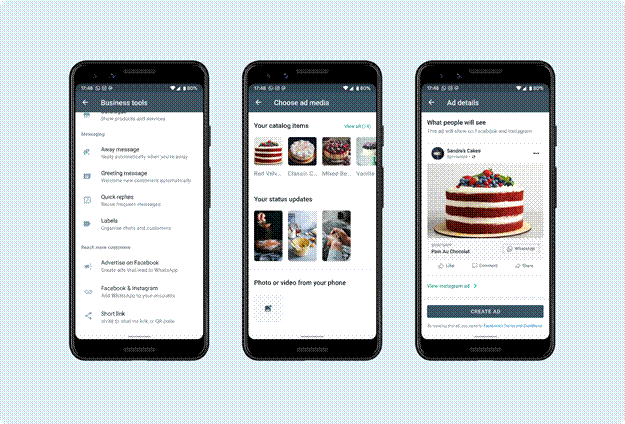 Image via Meta
Meta also announced two new features for its Meta Business Suite: WhatsApp in the inbox; and marketing messages.
Businesses have already been able to use the inbox feature to manage customer conversations across Facebook Messenger and Instagram Direct. With this new feature, which is starting out as a test, they'll also be able to manage WhatsApp messages from the same place. This makes the Inbox tool handy for managing messaging across all of Meta's conversational apps, and should be especially useful to customer service departments.
Multiple people from a business can manage messages using this feature, all from the same WhatsApp number, and they can do so on multiple devices. Meta says this will save businesses time and productivity.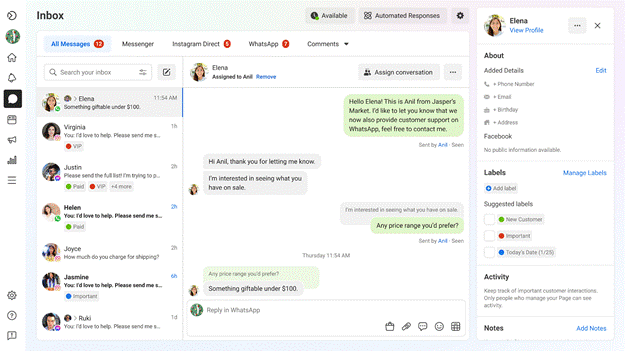 Image via Meta
The marketing messages feature, which is also in the testing stage, allows businesses to send promotional message campaigns via Messenger to customers who opt in.
"For example, a customer may opt in to receiving notifications about upcoming sales, allowing businesses to keep customers in the loop about future sales," the company explains. "SMBs have long told us that Meta Business Suite enables them to respond more efficiently to customer inquiries, but they've often relied on other solutions for customer reengagement. With this feature, SMBs will have a new tool to drive sales and customer loyalty in Meta Business Suite."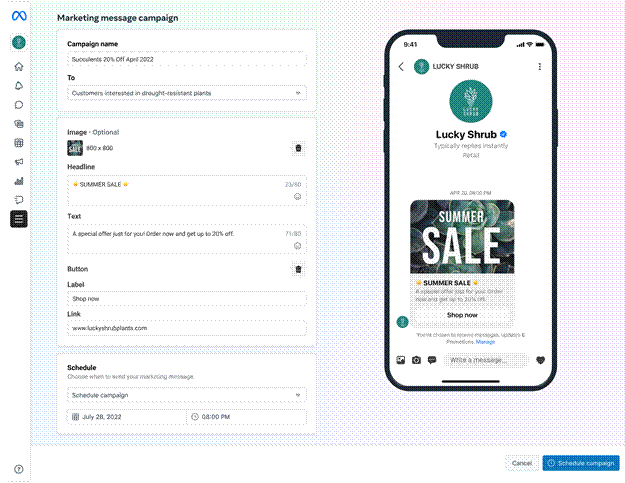 Image via Meta
Meta also announced a handful of lead generation and customer acquisition tools. The Quote Request feature on Instagram lets businesses put a "Get Quote" button on their Instagram profile and use "Get Quote" stickers in Stories.
Businesses will also be able to use Lead Ads Instant Forms to filter leads to find the ones that are most promising. With this feature, multiple-choice questions can be employed to filter out leads that are less favorable.
The company is also testing a more personalized version of Instant Form, which it says, allows businesses to add visuals and content to the form so they can share more information about their business. Businesses will also be able to offer exclusive, relevant content for people who complete the Lead Ads Instant Form.
Finally, businesses will be able to download lead information directly to their own CRM solution to follow up with potential customers.
With these latest additions, Meta continues to provide businesses with more flexible ways to interact with customers and generate new business.
Read other business articles
More from the Business Resource Center