UpCity Survey: 82% of Small Businesses Increased Outsourcing Since Beginning of Pandemic
UpCity recently shared results of a survey of small business owners and employees regarding outsourcing activities at their companies. The firm found that 82 percent of businesses polled increased outsourcing since the beginning of the pandemic.
UpCity, who connects businesses with service providers, polled 600 small business professionals about how they find and vet potential outsourcing partners, what functions they outsource for, what they hope to achieve by outsourcing, etc. Respondents came from a variety of industries.
"To keep up with the constantly evolving landscape in nearly every industry, many small businesses take the burden of specific 'behind-the-scenes' functions and processes off their plate so they can focus on what they do best," says Jack Thornburg, VP of Organic Growth at UpCity. "Leaving certain activities to the experts who do that kind of work every day eliminates the need for time-consuming training in-house, ensures the work is done correctly, and helps these companies achieve their primary business objectives more efficiently."
The survey found that 35 percent of businesses have been outsourcing certain business functions for one to two years. Another 31 percent have done so for three to five years.
Image via UpCity
At 83 percent, a tremendous number of businesses are considering increased outsourcing. Just 11 percent said they have no plans to increase outsourcing efforts.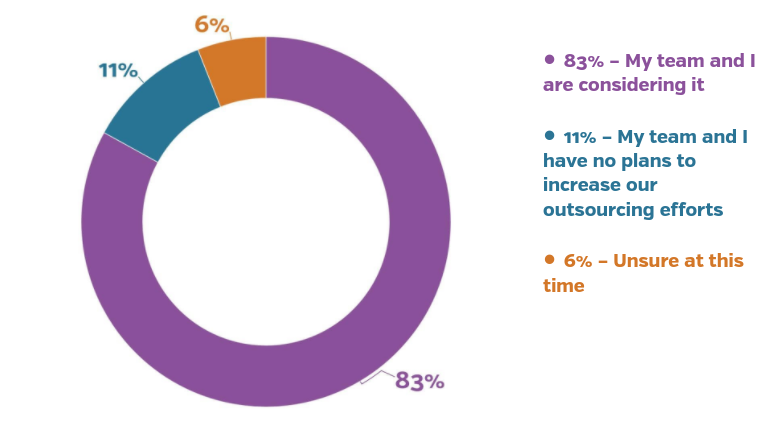 Image via UpCity
Flexibility appears to be the main factor driving the decision to outsource, with 21 percent saying this has been the most positive aspect of doing so. Increased efficiency is close behind at 19 percent. Sixteen percent cited increased available resources, and 11 percent cited the freeing up of employees' time for other projects. Other aspects noted include: receiving help and guidance from an expert, better risk management, better tax breaks, and money saved compared to hiring in-house.
The most important trait businesses seek when evaluating an outsourcing partner is strong problem-solving skills. Other traits include experience, being easily reachable, affordable pricing, time management skills, positive reviews, and examples of previous work.
The survey found that 30 percent of outsourced teams in the U.S. are located in the Midwest.
"As the workforce becomes more distributed and less tied to office spaces and urban centers, the remote work movement has opened up new areas of the United States workforce to alternative working arrangements," UpCity's report says. "Outsourced teams are starting to gain footholds in areas like the Midwest, allowing skilled workers to find meaningful and more complex work in the Midwest and beyond. This allows Midwest-based businesses to attract high-quality employees at higher rates than a company servicing local clients only, all while the business overhead costs are kept low through lower rent, taxes, and other operating costs."
Referrals are the top way that businesses find their outsourcing partners, at 20 percent. This is closely followed by social media at 19 percent, 17 percent said online marketplaces, and 15 percent said online advertisements. Another 15 percent used Google searches.
While the pandemic has clearly led to significantly more outsourcing, it appears we'll be seeing a sustained increase for the foreseeable future as hiring remains a challenge and remote work continues to be commonplace.
Read other business articles
More from the Business Resource Center